Jovan Ginić, the young Serbian actor who stars in the film Lost Country by Vladimir Perišić has won the Revelations award for the best young actor, which is one of the three official awards given during the Critics' Week at the Cannes Film Festival. The award is named Louis Roederer and was established six years ago to encourage young acting talent.
Thw world premiere of Lost Country took place on May 22nd at the Cannes Festival, in the "Miramar" cinema, which was filled to capacity. Perišić and his team were rewarded with a long and hearty applause.
This year's edition of Critics' Week features eleven productions from around the world, seven of which, including Lost Country, are competing for the grand prix and other awards.
This year's jury of the"Critics' Week program is chaired by the French director Audrey Diwan, whose film Happening won the Golden Lion in 2021 in Venice. In addition to Diwan, the jury includes German actor Franz Rogowski, film professionals Kim Yutani and Minakshi Shede, as well as Portuguese director of photography Rui Posas.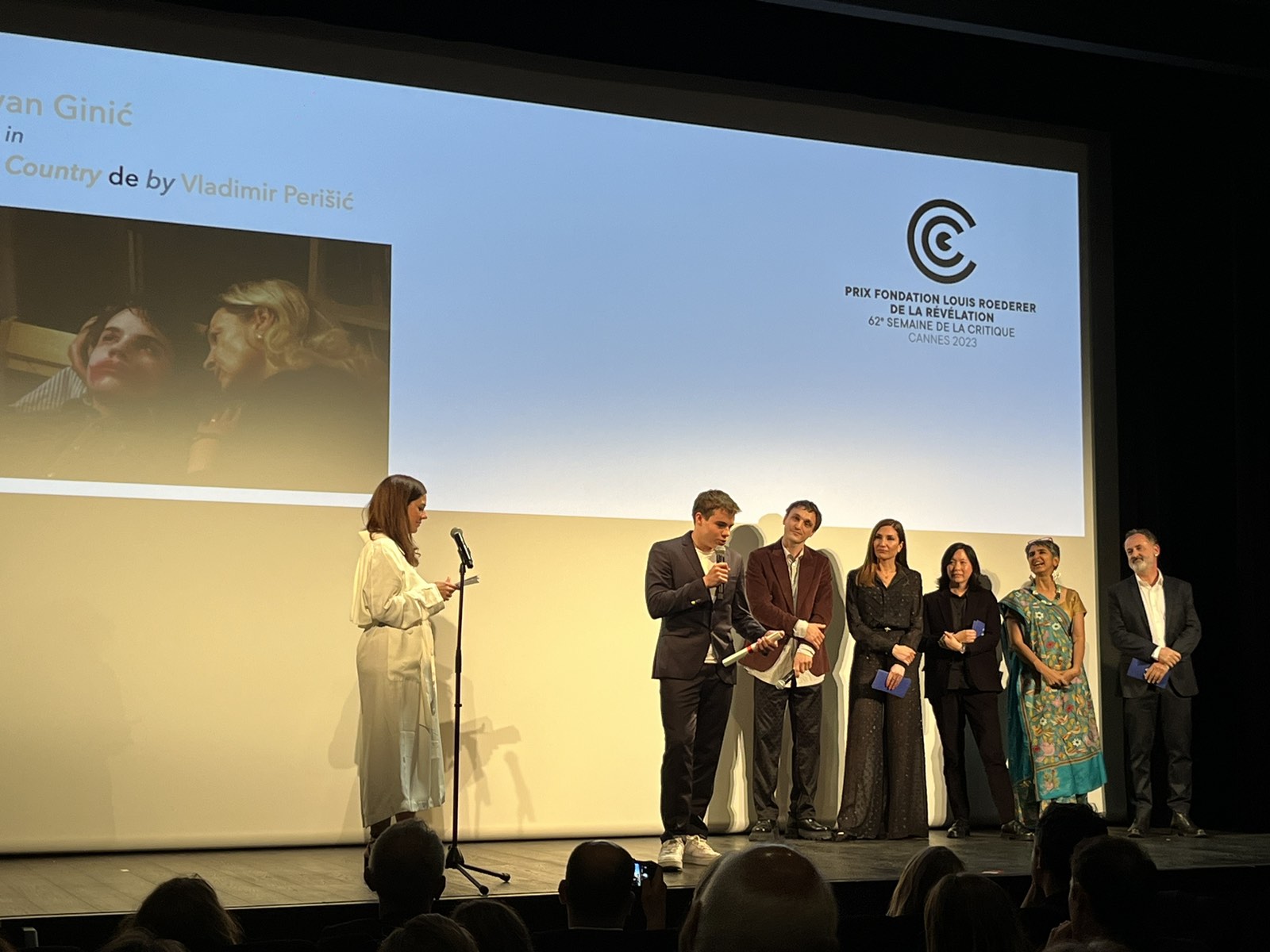 Jovan Ginić plays Stefan, a fifteen-year-old high schooler who in 1996, during the student demonstrations against Milošević's regime, realizes that his mother is an accomplice of the corrupt government.
In addition to the award-winning Ginić, the film stars three other young actors-debutants: Miodrag Jovanović, Lazar Kocić and Ana Simeunović, who are also in Cannes, as well as world-renowned actors Jasna Đuričić and Boris Isaković.
The film is a co-production of France, Serbia, Luxembourg and Croatia, and the only film from this part of Europe in this year's Cannes programs.
In a statement for the FCS website, Perišić said that he enjoyed working with young actors, and added: "Working with unschooled actors is the most beautiful part of working on a film for me." Jovan's dedication to this film was exceptional and he achieved a role that, I believe, will be talked about a lot. He is at the very heart of the events of my new film, and before him is a very difficult struggle: to accept the unacceptable and face the reality of the world he comes from, which is all the more difficult because it is about his mother. That is the essence of the story I wanted to tell with my new film."
The production of the film "was supported by Film Center Serbia at the Competition for Co-financing the production of domestic feature films, recognizing "the potential for a long and successful life at the most important international festivals, as well as in world arthouse distribution".
Serbian film last had its representative in Cannes in 2018, when Load directed by Ognjen Glavonić was shown. The award for Ginić is the first Cannes award for a Serbian film after many years.